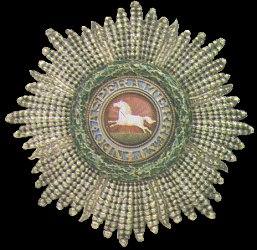 The Royal Guelphic Order
, sometimes also referred to as the
Hanoverian Guelphic Order
, was a British order of chivalry instituted on
28 April
1815
by the
Prince Regent
(later George IV). It has not been conferred by the British Crown since the death of King
William IV
in
1837
, when the
personal union
of the
United Kingdom
and
Hanover
ended. It has however continued to be conferred by the Kingdom of Hanover as an independent state and subsequently after the defeat and forced dissolution of the Kingdom of Hanover by the Kingdom of Prussia to be awarded by the Royal House of Hanover.
Prince Ernst August
married to
Princess Caroline of Monaco
is still able to award this honour in his capacity as Head of the Royal House of Hanover. The honour is named after the
House of Guelph
to which the Hanoverian kings belonged, and its insignia were based on the white horse of that kingdom's arms.
The Order included two Divisions, Civil and Military. Its three classes, in descending order of seniority, were:
Knight Grand Cross
(GCH)
Knight Commander
(KCH)
Knight
(KH)