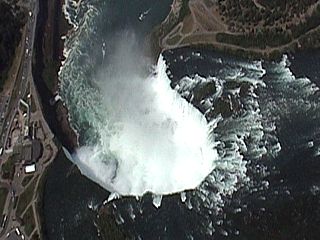 For the Horseshoe Falls in Wales, United Kingdom, see,
The
Horseshoe Falls
, also known as the
Canadian Falls
, is a
waterfall
on the
Niagara River
, located entirely on the
Canadian
side of the border with the
United States
. It is located between Terrapin Point on
Goat Island
in
New York State
, and Table Rock House in
Ontario
.
The name is derived from its curving, horseshoe-shaped crest that is 671 meters (2,200 ft) in width. At the center of the Horseshoe Falls the water is about 3 meters (10 ft) deep. It passes over the crest at a speed of about 32 km/h (20 mph). The falls is 53 meters (173 ft) high, has an average crest elevation of 152 meters (500 ft) and faces northwards. The depth of the river at the base of the falls is actually higher than the falls itself, estimated at 56 metres (184 ft).
The Horseshoe Falls is considered to be the most impressive of the three falls that make up
Niagara Falls
. Approximately 90% of the water of the
Niagara River
flows over Horseshoe Falls, while the other 10% flows over the
American Falls
.
The falls continually produces a large amount of mist, which renders viewing them difficult. The amount of natural mist has been reduced since the early
20th century
by the diversion of most of the water from the Niagara River for
hydroelectricity
, but then increased in the last 5 years due to new high-rises being built on the Canadian side of the border causing redirection of airflow. It is observable at a direct angle from the Canadian side, and at a steep angle on the U.S. side on Goat Island. The
Maid of the Mist
boat offers tours which approach the base of the falls.
The
Niagara Scow
has rested approximately 700 metres from the edge of the falls since it was caught against a
rock shoal
in 1918, and a plaque today informs tourists of the history of the small shipwreck that has sat perched just above the falls for nearly a century without being dislodged.