Dame Emma Albani
DBE
(
1 November
1847
-
3 April
1930
), was a leading
soprano
of the
19th century
and early
20th century
, and the first
Canadian
singer to become an international star.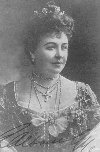 Childhood
Operatic Career
Albani's funds began to run low, and although her training was not yet complete she began to look for work to help support her schooling. She found a position in Messina, and her operatic debut was on
March 30
,
1870
, in
Messina
, playing Amina in
Vincenzo Bellini
's
La Sonnambula
. Her debut performance was very well recieved. She later recalled:
I was literally loaded with flowers, presents, and poetry, the detached sheets of which were sent fluttering down in every direction on the heads of the audience; and among the numberless bouquets of every shape was a basket in which was concealed a live dove. They had painted it red, and the dear little bird rose and flew all over the theatre.
She returned to Milan after her contract in Messina had expired, to resume her instruction by Lamperti. Additional work offers began to pour in. She soon accepted a role in
Rigoletto
being performed in
Cento
. Further roles followed in
Florence
and
Malta
, with parts in
La Sonnambula
,
Lucia di Lammermoor
,
Robert il Diavolo
,
Il Barbiere di Siviglia
and
L'Africaine
. He was impressed by her talent and signed her to a five-year contract. She was scheduled to make her
London
debut in the spring of 1872. Before her London contract began she returned to Italy to resume her studies with Lamperti. She made on last performance in Florence, giving renditions of
La Sonnambula
and
Lucia di Lammermoor
before returned to London.
Move to London's Covent Gardens
After retiring from the Covent Gardens in 1896, Albani departed for a tour of her native Canada, performing in venues across the country. In 1898, she toured Australia.
Legacy